Friday, December 17
Ho-kay. Story time. Back in September, I received an email from Daniel Lieberman, a professor at Harvard. He asked permission to use one of our vacation photos in an article he was writing. I said "Sure!". The picture he asked about was the sunset and acacia tree.

I nearly lost control of all bodily functions when I learned that Nature magazine was going to use our picture on the cover. Woot! Here's a larger picture of the cover.

In other news, folks keep hitting Branchy for the strangest reasons. We're in the top five for image requests involving "wife swap" on Google. The picture is from our Africa vacation where three audience members were selected to play a game: identify their wife by only feeling her feet. Everyone guessed right and no one swapped wives. Sorry, guys. Try polyamory.org instead.

Also among recent requests: "golden shower clips", "baby hyenas", "giraffe tongue", "children bubbles", "pony yiff" (again!), "maids milking cows", and "expanding breasts".

November's IP address winner is 12.183.129.88, pulling down 4.52% of Branchy's bandwidth. That's 56 megabytes worth of clips and photos! Thank you, CMA Cablevision in Kingsville, Texas!

With 326 page requests, this month's leader is 216.39.193.226, located at 12853 Capricorn, in Stafford, Texas. 216.39.193.226 hosts a web page about Shooting Simulations for Firearms Training.

Why do gun nuts from Texas like my web page? :( I need to write more liberally. More like a liberal. Liberaler?

Sticking with that theme, I present to you "Nature Anthem" as written by Jason Lytle of Grandaddy. It is so sweet, it will give you cavities.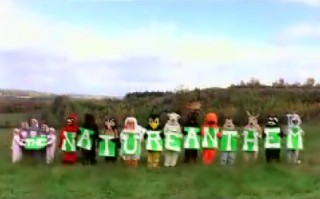 Monday, December 13
First, let me thank Rick for taking pictures during Thanksgiving. Look in the "Photos" section, or click the cropped picture of the dry-erase board:




Next, Happy Second Birthday to my tiny nephew Jonathan:




Left to right: Sue, Christopher, Jonathan. I didn't give him the guitar. My present is the one wrapped up in newspaper in the background. :P

I have many things to link to / post / talk about. I hope to have a second post by the end of this week. Work has finally eased up a bit.