Monday, August 23
Quick kitchen update. Scroll to the bottom for new pictures. I didn't make it clear before, but the big yellow image further down on this page is an active link to the kitchen pictures. :)

Sunday, August 8
Thanks to Amanda and Ryan for organizing the "painting party". As a result, I have two new pieces of art to adorn my walls:



This piece is "cover art". I painted it, but it is a cover of Timothy Albee's "One Soul".



This one's original, but I might have been channeling White Wolf's glyph style a little.

Oh yes - I just got Doom III today. I'm too scared to play it. Think "Half Life" meets "Resident Evil", set in the original dark Doom hallways. It seems wrong that I can't use my flashlight and gun at the same %&*#ing time. Mulder and Scully did that all the time!

And finally, I dug up something I made in 1993. Also a cover, here's my impression of Pachelbel's Canon in D. Is it obvious that I liked electronic music from an early age? :) Thanks to Gail for suggesting I find a ".rol" plug-in!

Wednesday, August 4
Wondering what we've been up to the last month? What happened to July?

The Kitchen.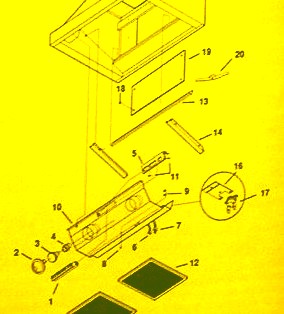 (assembly instructions for our new stove ventilation hood)